Our Curriculum
Our school's curriculum is meaningful and relevant to each child's needs and provides a broad range of experiences.
At Yelvertoft Primary School we plan together a whole school creative curriculum which enables us to teach though a termly context, thereby ensuring the children's learning is based on key skills, knowledge and understanding and is relevant, interactive and applied.
In addition we teach key skills in discrete English and Maths lessons each day. Our aim is to develop a lifelong enjoyment of learning in the children and foster their ability to think and act independently as well as contribute effectively as part of a team.
Our 4 Year Long Term Curriculum Flow is as follows:
YELVERTOFT PRIMARY SCHOOL CURRICULUM FLOW
2018/19

2019/20

2020/21

2021/22

Term 1

Memories and Remembrance

World History

Basketful of Memories

History focus

Reach for the Stars

Science Focus

Splish, Splash, Splosh

Geography/Science Focus

Burns, battles and Bangages

Science/History Focus

Term 2

Passage to India

A World of Difference

Where my Wellies take me

Geography Focus

A Street in Time

History Focus

Journeys into the unknown

Science/Geography Focus

Near and Far

Science/ History Focus

Term 3

Keen to be Green

Wild and Wonderful

Enterprise

Science Focus

Olympics

History Focus

Lights, Camera, Action

Art/Drama/Music

A Shakesperian Summer

History Focus
Click the links before for more detailed planning of our curriculum during this academic year
Cycle C EYFS & KS1 September 2020
Cycle C Lower KS2 September 2020.doc
Cycle C Upper KS2 September 2020.doc
Click here to download our KS1 long term curriculum map
Click here to download our KS2 long term curriculum map
Click here to view the National Curriculum
Phonics and Reading
At Yelvertoft Primary we have a whole school approach to synthetic phonics. Children are grouped by the phase that they are working towards. Our scheme follows the Government's Letter and Sounds document.
Children begin by learning the different sounds (phonemes) that are required for reading and writing. Once the Children have learnt the sounds we begin to focus on finding the initial sound in a word. We then move on to hearing the final sound and then the more tricky middle sound. Once the children can hear the sounds within the words they begin to learn how to blend these sounds together. It is essential that children learn the pure sound in order for sound blending to be effective. So c-a-t becomes cat, please avoid cuh-a-tuh as this stops the children from being able to hear the sounds blending together to form the word.
As soon as the children begin to blend they will receive two books from either The Oxford Reading Tree (ORT) – Biff, Chip and Kipper scheme, Project X or Collins Big Cat books. The first book is a phonics book that can be read (decoded) by using the phonics skills they have been taught. The second book contains the Tricky Words that cannot be read using phonics. We also have several additional reading schemes that run alongside the ORT books and these are Rigby Star, Jelly and Bean and The Runway Books, which are written to specifically engage children who need a little extra support before leaving our reading scheme to become free readers. We would encourage our children to read or share a book daily at home.
If you would like further information about Phonics, or helping your child to read please follow the link below for a parent's guide or please speak to a member of the Early Years Team.
Parents guide to Phonics or Helping your Child to Read and Write
We are now using Kinetic letters to improve the children's handwriting.
The children follow the adventures of Bouncy the brave monkey and Skip the scared monkey. We will first learn different sitting, kneeling and lying positions that will help to strengthen our bodies ready for writing. the next step is to make sure that our hands are ready for controlling the pencil and holding the pencil with the pincer grip. we will also be learning the 6 moves or strokes that are essential for forming letters. when the children are introduced to a new letter family they will bring home a sheet showing how each letter in that family is formed. Please help them to practice this whenever they are engaged in writing at home.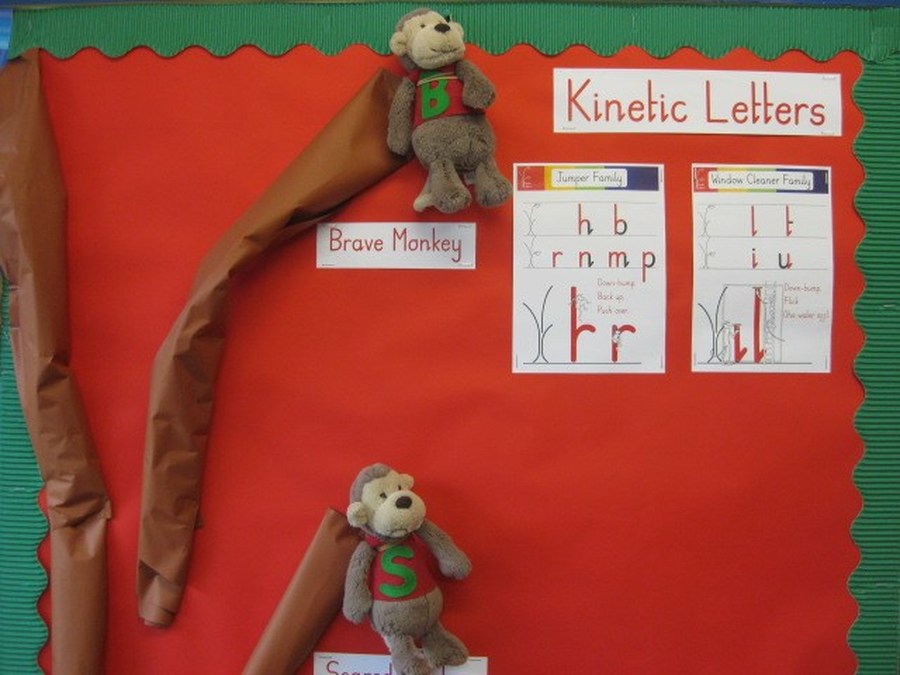 Click here to read the Helping Your Child to Read and Write Booklet
Click here to read the Parents Guide to Phonics
In Class 1 the children are working towards the Early Learning goals. Click here to view them.
Click here for more information on the Foundation Stage